Katie Johnson hired as youth ministry/outreach coordinator
By Cor Wilson, Moderator
As a result of our work with Crossroads in 2019, the congregation identified hiring a faith formation staff person as its top priority. We were just starting that process in 2020 when the pandemic closed us down.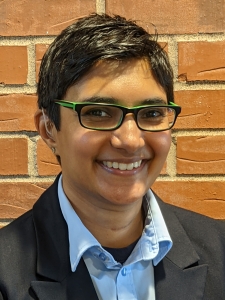 But now, I am very pleased to announce that Falcon Heights Church has hired Katie Johnson as our Youth Ministry and Outreach Coordinator, effective today, Aug. 19.
The Executive Board unanimously approved hiring Katie for this part-time position pending her background check at their meeting on Aug. 17. As of this writing, she is fully vetted, and began her FHC orientation today.
Katie has a Bachelor of Arts in Biblical and Theological Studies from Bethel University in St. Paul and Master of Divinity from Luther Seminary in St. Paul. She has served as youth director for Salem Lutheran Church in West St. Paul, on-call youth pastor with the Korean United Methodist Church in St. Paul, and supply minister for education and faith formation for the United Church of Christ in New Brighton. She is currently part-time program staff with Highland Friendship Club in St. Paul, where she works with individuals with disabilities. She is also a ministry volunteer with St. Anthony Park Nursing Home in St. Paul.
Katie has also been an advocate and volunteer with the Minnesota Brain Injury Alliance in Roseville, where she collaborated with several disability organizations to plan and implement Disability Advocacy Day at the Capitol in February 2020. She advocated for brain injury survivors and raised awareness about inequities in housing, transportation, health care and employment for those living with a brain injury. In addition, she has worked as an anti-violence advocate and volunteer with Outfront Minnesota.
"Katie brings a compelling life story and call to ministry, diverse experiences working with a variety of people and needs, and an ability to listen deeply and respond to the ways God is moving in people's lives, especially young people," said Rev. Rick. "I'm tremendously excited to begin work with her."
Executive Board Member Mark Miazga, who served as the lead for the Youth Ministry and Outreach Search Committee, said, "Katie has a deep commitment to faith formation with our youth, demonstrated ability to engage with children of all ages and needs, and additional experience with community outreach. She will also bring a collaborative spirit to help address our needs."
We want to thank Mark and search committee members Ash Koncar and Molly and Patti Hoffman, and focus group members Jill Dent, Mike Bradbury and Larry Schumacher, for their work in developing the job description and position announcement and interviewing Katie. The search committee unanimously recommended hiring Katie, and the Executive Board's vote Tuesday night was also unanimous.
Today, Aug. 19, was Katie's first day of getting on board at FHC. She completed her employment paperwork, got her photo taken for the website, and met with Office Manager Shannon Kaiser and Rev. Rick to get settled in her new office in the suite at church. She will have a church email address, which we will publish soon. She'll also be scheduling meetings with Moderator Cor Wilson and the Children's and Intergenerational Ministry Teams over the next few weeks so that after Labor Day, she and Rev. Rick can develop a work plan, establish her schedule, and communicate her availability and the best ways to get in touch with her.
Because Rev. Rick and Shannon adopted a "hybrid" work model during the pandemic, Katie will be "officing" remotely as well as on-site at the church and in the community. We hope to set up one or more opportunities in the fall for conversations and Q & A with Katie for us to get to know one another as she begins ministry with Falcon Heights Church.