Advent candle lighting — Week 4
Advent is a time of "opening to light."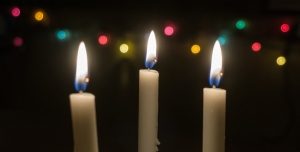 Advent is a time that we prepare our hearts and homes for the birth of Jesus on Christmas day.
We invite you and your family to light a candle each of the four weeks of Advent and to prepare with scripture, music and prayer.
Fourth Week of Advent and Christmas Eve
All of the candles will be lit. Tonight we read Luke 2:1-14:
"About that time Caesar Augustus ordered a census to be taken throughout the Empire. This was the first census when Quirinius was governor of Syria. Everyone had to travel to his own ancestral hometown to be accounted for. So Joseph went from the Galilean town of Nazareth up to Bethlehem in Judah, David's town, for the census. A descendant of David, he had to go there. He went with Mary, his fiancee, who was pregnant. While she was there, the time came for her to give birth. She gave birth to a son, her first born. She wrapped him in a blanket and laid him in a manger, because there was no room in the inn.
"There were shepherds camping in the neighborhood. They had set night watches over their sheep. Suddenly, God's glory blazed around them. They were terrified. The angel said, 'Don't be afraid. I'm here to announce a great and joyful event that is meant for everybody, worldwide: A Savior has just been born in David's town, a Savior who is the Messiah. This is what you're to look for: a baby wrapped in a blanket and lying in a manger.' At once the angel was joined by a huge angelic choir singing God's praises: Glory to God in the heavenly heights, peace to all people who please him."
Sing or listen to "O Come, All Ye Faithful"

On YouTube: https://www.youtube.com/watch?v=Mj7Pr42rliI (or search Pentaxonix-O Come, All Ye Faithful)
Lyrics for singing "Away in a Manger," acapella style

Away in a manger, no crib for a bed,
The little babe Jesus lay down his sweet head,
The stars in the sky look down where he lay,
The little babe Jesus asleep on the hay.
Prayer: Dear God, this Christmas Eve we are thankful for Jesus' birth, new life, spirit, light, hope and love. Amen.