Advent candle lighting — Week 3
Advent is a time of "opening to light."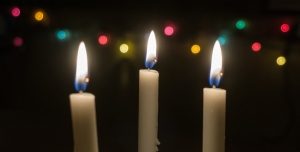 Advent is a time that we prepare our hearts and homes for the birth of Jesus on Christmas day.
We invite you and your family to light a candle each of the four weeks of Advent and to prepare with scripture, music and prayer.
Third Week of Advent
As we light the third candle, we read Philippians 4:4-7:
"Celebrate God all day, every day. I mean revel in him! Make it as clear as you can to all you meet that you're on their side, working with them and not against them. Help them to see that Jesus is about to arrive. He could show up any minute! Don't fret or worry. Instead of worrying, pray. Let petitions and praises shape your worries into prayers, letting God know your concerns. Before you know it, a sense of God's wholeness, everything coming together for good, will come and settle you down. It's wonderful what happens when Christ displaces worry at the center of your life."
Sing or listen to "Joy to the World"

On YouTube: https://youtube.com/watch?v=-Xo64Q2ucQ8 (or search Pentatonix (Joy to the World).
Lyrics for singing acapella style
Joy to the World, God is Come.
Let earth receive her king;
Let every heart prepare him room
And heaven and nature sing,
And heaven and nature sing,
And heaven and heaven and nature sing
Prayer: God, melt our worries as we pray and give us joy as we wait for Christmas morning with great anticipation. Amen.