Advent candle lighting — Week 2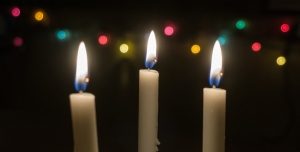 Advent is a time of "opening to light."
Advent is a time that we prepare our hearts and homes for the birth of Jesus on Christmas day.
We invite you and your family to light a candle each of the four weeks of Advent and to prepare with scripture, music and prayer.
Second week of Advent
As we light the second candle, we read Luke 1:26-35:
"In the sixth month of Elizabeth's pregnancy, God sent the angel Gabriel to the Galilean village of Nazareth to a virgin engaged to be married to a man descended from David. His name was Joseph, and the virgin's name, Mary. Upon entering, Gabriel greeted her: 'Good morning! You're beautiful with God's beauty, beautiful inside and out! God be with you.' She was thoroughly shaken, wondering what was behind a greeting like that. But the angel assured her, 'Mary, you have nothing to fear. God has a surprise for you: You will become pregnant and give birth to a son and call his name Jesus. He will be great, be called the 'Son of the Highest.' God will give him the throne of his father David; He will rule Jacob's house forever—No end, ever, to his kingdom.' Mary said to the angel, 'But how?' The angel answered, 'The Holy Spirit will come upon you, the power of the Highest hover over you; Therefore the child you bring to birth will be called Holy, Son of God."
Listen to "Mary's Song"

On YouTube: https://www.youtube.com/watch?v=Y6VGVXjGLBQ (or search Breath of Heaven music video)
Lyrics for singing "Go Tell it on the Mountain," acapella style

Go tell it on the mountain,
over the hills and everywhere;
go, tell it on the mountain
that Jesus Christ is born.
Prayer: God, you breathed your spirit upon Mary, and you sent Gabriel as messenger of hope and good news. As we wait this advent, breathe your spirit of hope on us. Amen.