Advent candle lighting — Week 1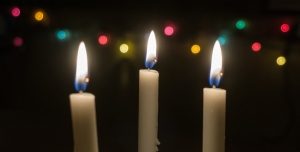 Advent is a time of "opening to light."
Advent is a time that we prepare our hearts and homes for the birth of Jesus on Christmas day.
We invite you and your family to light a candle each of the four weeks of Advent and to prepare with scripture, music and prayer.
First week of Advent
As we light the first candle, we read Isaiah 9:2:
"The People who walked in darkness have seen a great light. For those who lived in a land of deep shadows — light! Sunbursts of light!"
Sing, or listen to "O Come, O Come Emmanuel" by Pentatonix
On YouTube: https://www.youtube.com/watch?v=RTsCC0hwL5g (or search
O Come, O Come Emmanuel-Pentatonix [Yule Log audio])
Lyrics for singing, acapella style
O come, O come, Emmanuel, and ransom captive Israel
that mourns in lonely exile here
until the Son of God appear.
Rejoice! Rejoice! Emanuel shall come to you, O Israel.
Prayer: Dear God, as we wait for the coming of the light, a spark of hope is ignited in the night and it shines brightly. Help us wait with great anticipation. Amen.