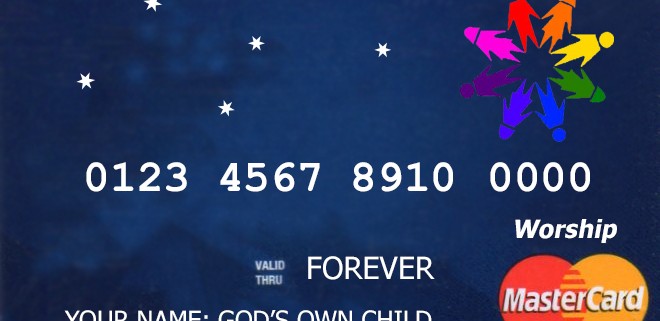 By Rev. Anne Swallow Gillis —
Before I came to serve as your interim minister over a year ago now, I was leading a United Church of Christ congregation in northern Virginia, in the suburbs right outside of Washington, D.C. One of the members there shared an encounter with me that she had with her grandson who was active in our church ministries. Having received her permission to share this story, I will tell you that this grandmother and her grandson were spending the day together one winter snow day while his parents were at work. Somehow they had gotten onto the topic of "currencies." An unusual conversation with even a precocious 6-year-old.  After some discussion about how different countries have different types of currencies (dollars, yen, strings of shells, euros, pesos and such), the child decided to create some credit cards and debit cards. Which are often our current currency of choice these days, at least the one obvious to our children. After some mutual play with various pretend credit and debit cards, the boy announced it was time to make a "worship card." "Hmmmm…that's interesting," said Grandmother. "Just what does a worship card do?" "Well, you can use it to get things, like you can buy goats to send for Heifer project like we do at church" replied the child confidently, "You can get food for poor people with it."  Apparently a loaded "worship card" can make good things happen and it is about getting things for other people.
Hearing this story, I was struck by this boy's insight into how a "worship card" might function. This 6-year-old, through his few years in worship, hearing numerous children's messages, involvement in Sunday School service projects, wider church food drives and meal packing for those in need, was on to something important about our life together as a church. He knew that any "plastic" has to have something loaded on it, be it a debit card, a credit card, gift card, for it to be worth anything. I suggest that a "loaded" worship card can do more than we know. It provides certain value: spiritual and emotional currency that, for starters, enables us to make life choices based on our values and beliefs. Might we receive something to draw on, some newly imagined way of being in the world, because of our worship life together? And…is this just about our own individual needs?  Is weekly corporate worship simply a spiritual "7-Eleven" where we dip in for a quart of intellectual stimulation and a loaf of "feel-good" inspiration? Are we just privately "tanking up" here?
Each month in our church newsletter, I describe our weekly worship as "the heart of our life together" here at Falcon Heights Church. What do we receive here in worship? What value loads up for us on our "worship card" that we don't get elsewhere in our lives? It makes good sense to say that, in worship, we learn more about what God cares about—the hurts and needs of the world—so we can go out and do something about being God's healing partners. But I also think that one of the most important things that get loaded up on our "worship card" is a deeper understanding about ourselves. And it is that transformed understanding of ourselves that eventually starts to make a real difference in our lives.
Our biblical forbearers spent a lot of time asking God to clarify their current situation: "Are you still with us?" they would demand of God during difficult times. "Things are a mess! Who are we to you, chopped liver?" In their worship and in their sacred writings, the community would recount where they had been and what it had meant: wandering Arameans were our father and mother and we were chosen as God's own; we were slaves in Egypt and we were released and saved by God's almighty hand; we were given a new land and taught to become a light of justice and compassion to all nations. As followers of Jesus, you and I stand within this tradition of those who would look back and remind themselves of God's claim on them. In these words we just heard from the Jewish prophet Isaiah, we have been taken by and kept by God, in spite of our failings. We too have been given a covenant to be that Light and to open the eyes of the blind, release the prisoners. As we join in worship week after week, singing, pondering, praying together, our "worship card" gets loaded up with this deep awareness of who and whose we truly are.
Why does this matter? Because the world so often tells us otherwise. Our media tell us we are important if we look a certain way, are a certain age and own certain things. Bosses tell us we matter based on our productivity. Who are we; whose are we? Are we owned by our work, our hobbies, our debts, our past failures or mistakes? We come to worship and we hear a different message. We are reminded that we are created, formed, redeemed, owned by God. According to the prophet Isaiah, writing during the horrendous time of Israel's capture and exile to Babylon in the 6th century BCE, we are each called by name: "You are mine," says God. Whose are you, Anne? Who names and claims you? Well, I come from the Swallow clan, hardy New England stock, married into the Gillis clan, lived in a lot of places, sure do like to think that I own myself, have autonomy over myself, if I'm really honest. Empowered and independent, I am! Don't nobody own me!
But scripture seems to indicate otherwise: "Anne, you are not your own. You are mine," says God, "you are my beloved daughter." All of us: We are God's offspring, God's children, sons, daughters of the living God. When we baptize our little babies and our adults, when you and I worship together, Sunday after Sunday, we are loading up this identity awareness on our "worship card."
Early in the first decade of the first century, John the Baptist invited fellow Jews come to the rural outskirts of Jerusalem. He challenged them to reflect and repent, to turn their life around and be baptized as a sign of the forgiveness of their sins, of the new life they were choosing. We have no idea what suddenly drew Jesus to do this public ritual, to emerge from an obscure youth and young adulthood, and align himself with a radical prophet who was already in trouble with the local authorities. Did Jesus bring a sense of his own shortcomings, his own hesitancies, up to that point? "Who am I, whose am I, why does it matter?" might he have asked himself? Could he have possibly have been feeling spiritually dry himself? Was he seeking to quench some deeper thirst in those river waters, to ritually engage his past and his future as he entered into a dramatically public and dangerous path of teaching and healing? Here is someone who so clearly was able to convince other people of their essential worth and lovableness. This Jesus who, with baptism, knew himself to be worthy, loved and intimately connected to God, as he heard the words from heaven: "This is my beloved son, in whom I am well pleased." Perhaps the question for each of us is similar: Do we know ourselves to belong to God, to be beloved sons and daughters? Do we truly experience that God is pleased with us?
The rigors of Christian life, with the constant call to self-honesty, generosity, openness and inclusivity, can be overwhelming. We load up our "worship card" each time we are together, with the stories of Jesus and the taste of God's grace that we receive in one another's' presence. In worship together, we reimagine another possible world of justice and peace. We hear again that God is pleased with us, just the way we are…and that God desires more from us than to stay just the way we are. In baptism we receive the watery mark of God's grace and we come to the Table to receive the taste and texture of God's extravagant welcome. Through these sacraments, these holy acts, we boldly remember we are identified individually, named, by the Mysterious Creator of the Universe, and that this reality lays claim on us. We load up our "worship card" as we remember whose we are. And we once again head out into the world, strengthened and empowered by the value on that card. Thanks be to God. Amen.
https://www.falconheightsucc.org/wp-content/uploads/2016/01/Worship-card.jpg
420
660
Linda Owen
/wp-content/uploads/2016/08/Logo-final-392-x-154-300x118.png
Linda Owen
2016-01-10 21:09:42
2017-11-21 15:09:30
As God's sons and daughters